Court Grammar's Drama program emphasizes the importance of fusing technical skills with creative inspiration to mould students into well-equipped and versatile actors. The program involves students making, performing, analysing, and responding to drama, and exploring a range of drama forms, styles, and contexts. Drama classes include practices such as improvisation, play building, text interpretation, circus skills, stage combat, playwriting, and dramaturgy. The program also involves production and design aspects, such as sets, costumes, props, sound, and lighting.
Dramanauts – Where are they now?
Congratulations to Courtney Brown and Ben Vaughan (Class 2015) on their successful production of Cardboard Kingdom with Riptide Youth Theatre. Cardboard Kingdom was an original devised show that was performed as a part of the 2018 Perth Fringe Festival and Mandurah Crabfest. Both Courtney and Ben continue to be on the Arts scene with Courtney working with the PVI Collective on location-based installation performance titled 'Walk With Me', to be showcased at Stretch Arts Festival, as well as an untitled play, set to open later this year. Ben continues working in various projects at WAAPA and has gigs with his bands Lake Louise, Ella Munro and Movin' Time, whose next gig is at the Ellington on March 27th.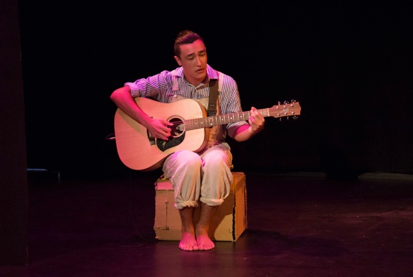 Lavina Monk (Class of 2017) will be performing alongside Normie Rowe, and Courtney & Chris Murphy in the upcoming Ben Elton musical We Will Rock You at His Majesty's Theatre. The show will run from March 23 – April 7 with tickets still available from Perth Theatre Trust. Congratulations to Lavina in scoring a role in this professional production.
Ronin Flynn (Class of 2017) started his training at The Western Australia Academy of Performing Arts (WAAPA) this semester in professional theatrical lighting. He was one of only 8 people around the county to be accepted into this highly competitive course. Ronin has currently been applying his skills as LX crew in the performance of Arthur Miller's The Crucible, which ends this week. Congratulations to Ronin and his ongoing achievements.
Jocelyn Pugliese- Drama teacher